Managed Service Providers (MSPs) play a crucial role in providing IT support to businesses of all sizes. One of the key components of an MSP's service offering is the helpdesk, which serves as the primary point of contact for customers seeking technical support. Over the years, different models of helpdesk structures have emerged, each with its unique advantages and considerations. This article explores the two main models: the Tiered Support Model and the Group Support Model.
As an MSP owner, you understand the critical role that an effective IT support helpdesk plays in your business. This article explores the evolution of IT support helpdesks in MSPs and provides insights into building a successful helpdesk operation.
Understanding the Different Models of IT Support Helpdesk Structure
The structure of your helpdesk can significantly impact your service delivery. Two popular models are the Tiered Support Model and the Swarming Support Model. The former offers a hierarchical approach to customer service, while the latter encourages a more collaborative, non-siloed approach. The choice depends on your MSP's specific needs and structure.
Tiered Support Model
The Tiered Support Model is a hierarchical approach to IT support that has been widely adopted by MSPs due to its effectiveness in resolving client issues in a timely manner. This model is structured into three main tiers:
Tier 1 – The Service Desk: This is the frontline of the helpdesk, where service desk personnel handle incoming support requests. These staff members are generalists with broad-based knowledge. They are responsible for managing and resolving issues, escalating them to the next tier if necessary. Typically, Tier 1 can resolve up to 70% of complaints.
Tier 2 – Technical Management Teams: This tier consists of support engineers with more specialized IT skills. They handle more complex problems that require more time to resolve. Approximately 20% of incoming client reports to an MSP are handled at this tier.
Tier 3 – Vendor or Developer Support: This level is engaged when the first two tiers have been unable to address user concerns. These highly-skilled engineers are responsible for assigning the appropriate resources to tackle the issue. They are essential for resolving complex cases that require an understanding of code and bug fixing.
Group Support Model
As an alternative to the Tiered Support Model, some MSPs adopt the Group Support Model. This model involves the creation of teams, each consisting of four to eight members, with each team assigned a specific area of focus (e.g., backup, project, NOC, firewall, etc.).
The Group Support Model allows support staff to work with each customer with a personalized and customized approach, as their issues are usually handled by the same staff members in each instance. Moreover, this model allows L1/L2 engineers to be part of teams in some scenarios, fostering a more generalist approach.
Choosing the Right Model for your IT Support Helpdesk
The choice between the Tiered Support Model and the Group Support Model depends on several factors, including the size of the MSP, the complexity of the issues typically handled, and the specific needs and preferences of the MSP's clients. Both models have their strengths and can be effective when implemented correctly.
In the fast-paced world of IT, MSPs must be flexible and responsive to changes in technology and customer expectations. Whether they choose a tiered or group model, the key to success lies in building a helpdesk that is efficient, responsive, and capable of delivering high-quality support to clients.
Building an Effective IT Support Helpdesk: Steps and Key Considerations
Creating an effective helpdesk involves several key steps, from defining your goals and procedures to hiring and training support engineers. A well-structured schedule, a robust ticketing system, and a comprehensive knowledge base are also crucial. MSP360 provides a detailed guide on these steps.
1. Set Clear Goals for the Setup Process
The first step in setting up an effective helpdesk is to establish clear goals. These goals should focus on minimizing friction for both your customers and your support team. For your customers, this could mean simplifying support forms or entry points and making the experience as conversational as possible. For your support team, this could mean reducing the number of tasks and processes they need to handle, allowing them to focus more on actively helping customers.
2. Reduce Duplicated Work
Identify tasks that your team is repeatedly doing and find ways to automate or streamline these tasks. This could involve automating some ticket handling work or creating pre-written response snippets for common issues.
3. Outline Your Reporting
Have a clear idea of what you want to measure. This will help you determine what information you need to capture in your support conversations. With these requirements in hand, you can set up your helpdesk to gather this information as consistently and simply as possible.
4. Keep Your Knowledge Base Updated
Regularly update your knowledge base with new solutions so that it evolves with your IT environment. This can be achieved by nominating a knowledge base manager from your team who will be responsible for the entire life cycle of the knowledge process.
Managing the knowledge base content is as important as keeping it updated. This can be achieved by allowing technicians to update existing articles and revert to earlier versions if necessary, backing up your knowledge base content at regular intervals, and generating timely reports about knowledge base performance and usage.
5. Structure Your User Knowledge Base
A well-organized user knowledge base improves usability and end-user adoption. Structure the knowledge base to provide ease of use and navigation to end users by defining categories and sub-categories that reflect the problem categories in the helpdesk helping more technical users to resolve some of the common issues themselves.
6. Define an Approval Process
Ensure the reliability and quality of the knowledge base content by implementing an approval process. This process could involve a technician documenting the resolution process, a domain or solution expert reviewing for technical accuracy, and a knowledge base manager approving the content.
7. Enhance the Search Capability of Your Knowledge Base
An enhanced search capability makes it easy for end users and technicians to use the knowledge base. This can be achieved by tagging articles with appropriate keywords and providing clear and problem-specific topics to the articles.
8. Determine Who Sees What
Reduce the information overload on your end users by providing role-based access to knowledge base articles, so only relevant solutions are available to end users.
9. Have clear note taking procedures that everyone follows
Clear technician notes that allow anyone following up on the ticket to clearly understand the steps taken or the troubleshooting procedures attempted in resolving the ticket are crucial to cutting down time spent on issues. Have a clear note-taking procedure that your technicians follow when working on tickets. You can find an example of such a procedure that you can use yourself in our free MSP note taking guide.
In conclusion, building an effective helpdesk involves careful planning, organization, and management. By following these steps and considerations, you can create a helpdesk that not only improves customer satisfaction but also increases the productivity of your support team.
The Dispatcher: The Unsung Hero of an MSP Helpdesk
A dispatcher plays a pivotal role in managing every ticket at the helpdesk. They ensure the quality of ticket notes and that the next steps are included. Support Adventure, a trusted MSP staffing partner, emphasizes the importance of a dispatcher in maintaining organization and efficiency in your helpdesk.
We've written at length about this subject, so feel free to check out our article about why you need a dispatcher or our look at the responsibilities and complexities of the role.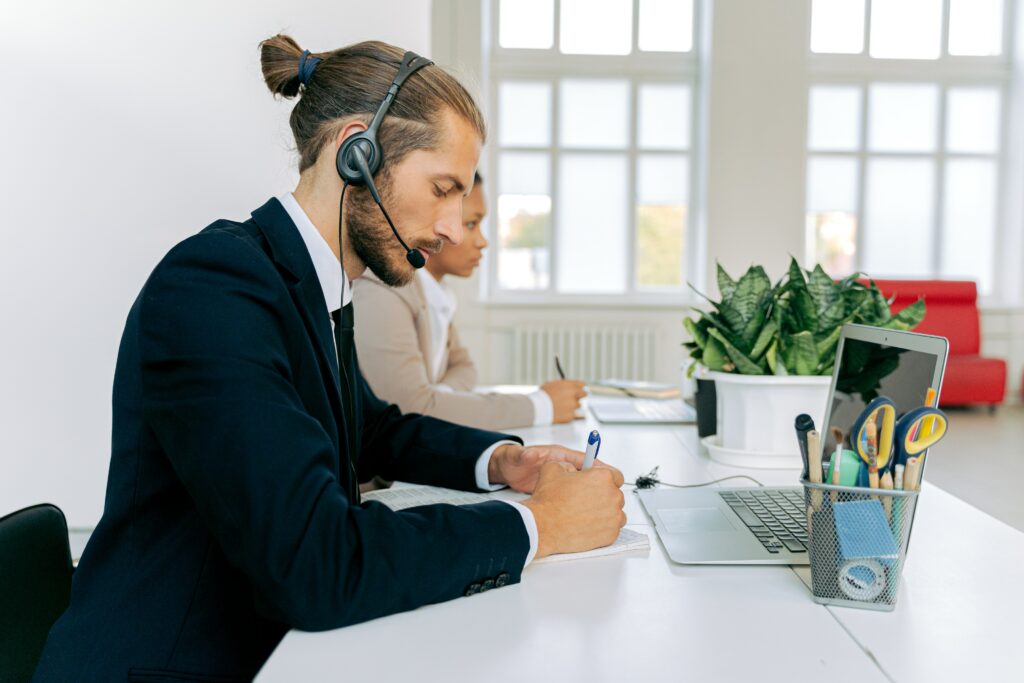 People Power: The Impact of Staff and Management on IT Support Helpdesk Success
Your staff is the most important success factor in your helpdesk. Investing time, effort, and money in finding and hiring the right people is crucial. At Support Adventure, we understand the importance of having team players who contribute to an excellent structure and a positive work culture and help you find these exact people for your helpdesk.
Using Metrics to Drive Your IT Support Helpdesk Efficiency and Customer Satisfaction
Metrics provide insights into your helpdesk's performance. They can help you understand your processes and how they are running, enabling you to make data-driven decisions to improve support and customer satisfaction.
Embracing Continuous Improvement in MSP Helpdesk Operations
In the ever-evolving world of MSPs, continuous improvement is key. By listening to all stakeholders, incorporating suggestions, and creating a great system of boundaries for your helpdesk, you can ensure your MSP stays ahead of the curve. And remember, if you need a reliable partner to help you scale your MSP business with highly talented and cost-effective staff, Support Adventure is here to help.