Namibia, a country known for its stunning landscapes and diverse wildlife, is increasingly becoming a favored destination for digital nomads and remote workers. The combination of reliable internet connectivity, a thriving expat community, and a pleasant climate makes it an attractive option for those looking to work remotely in Namibia. Having a remote IT support job is perfect to make the best out of the remote working lifestyle whether you're from Namibia or looking to make Namibia your next remote 'workation' destination.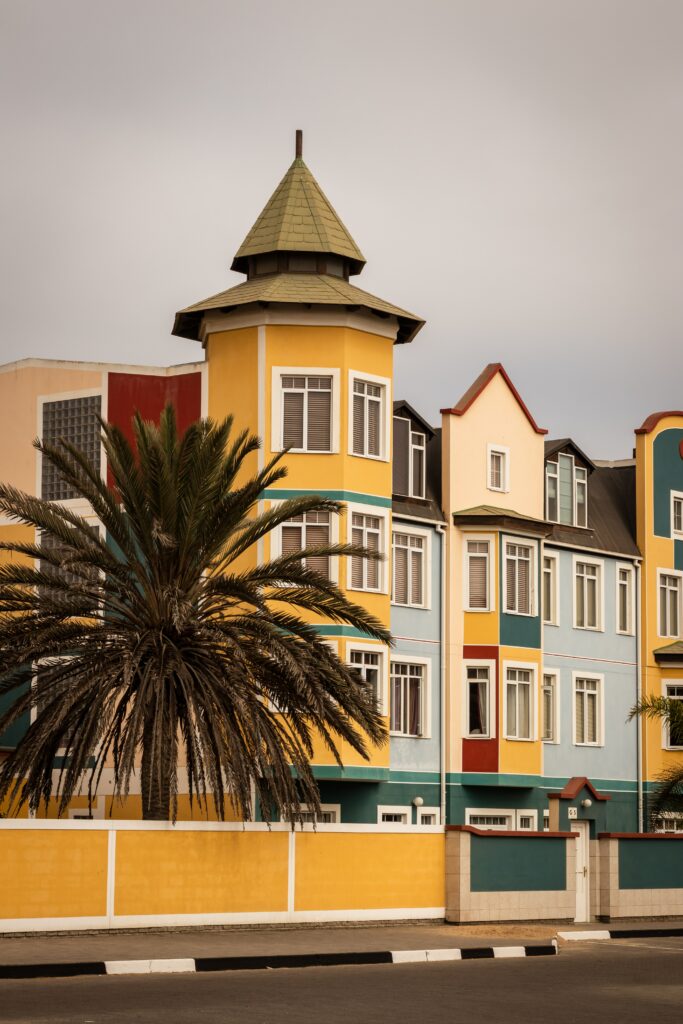 The capital city, Windhoek, is a top choice for many remote workers. It offers excellent infrastructure, including high-speed internet, a range of accommodation options, and a bustling city life. Being the capital, it also has a wide variety of coworking spaces such as DoBox (which unfortunately closed permanently recently) and NBII Innovation Village which provide a conducive environment for work​.
Swakopmund, situated on the country's west coast, is another popular location for digital nomads. The city offers a more relaxed environment, with the Atlantic Ocean on one side and the Namib desert on the other. Not only does it have great infrastructure, but it also offers numerous recreational activities such as dune boarding and skydiving, perfect for those looking to mix work and play​.
In recent years, Namibia, like many other countries, has seen a surge in remote work opportunities. This trend has been partly driven by a global shift towards remote working, as well as increasing recognition of Africa's untapped tech talent. Companies like Andela are acknowledging the potential of African tech talent and are investing in training and placement services across the continent​. Despite challenges, the tech landscape in Africa is evolving rapidly, offering an increasing number of remote work opportunities.
Navigating the job market in Africa can be a daunting challenge, especially in the tech industry. Africa has faced long-standing issues related to a shortage of tech talent, with concerns about the available pool of skilled developers and tech professionals becoming prominent in recent years​​. Yet, within this challenging landscape, there are burgeoning opportunities, particularly in the IT support sector. This article aims to provide a roadmap for Namibian tech professionals seeking remote IT support jobs.
What Are the Best Platforms for Finding IT Support Jobs in Namibia?
Finding an IT support job in Namibia, particularly remote ones, can be made easier with the right job search platforms. Here are some of the most reliable platforms that can be used to find IT support jobs in Namibia:
Support Adventure: As a remote IT staffing company, Support Adventure provides numerous opportunities for IT support technicians and service coordinators alike. We focus on long-term remote job opportunities, making it an ideal choice for tech professionals in Namibia seeking stable, remote IT jobs.
LinkedIn: LinkedIn is a global professional networking platform that also serves as a job search engine. Many companies post their job vacancies on LinkedIn, including IT support roles. Creating a comprehensive LinkedIn profile and actively networking can open doors to numerous job opportunities, not only in Namibia but also for remote positions worldwide.
Glassdoor: Glassdoor is another reliable platform for job seekers. In addition to job listings, Glassdoor provides insights into companies, including employee reviews, salary reports, and interview experiences, helping job seekers make informed decisions.
Indeed: Indeed is a worldwide employment website that aggregates job listings from various websites. It's a good resource for finding IT support job listings in Namibia or remote positions that accept applicants from Namibia.
Namijob: Namijob is a job portal dedicated to employment in Namibia. It offers a variety of job listings, including IT support roles. This platform can be particularly useful for those seeking jobs within Namibian companies.
Remember, while these platforms can be useful in your job search, it's also crucial to leverage your personal network. Many job opportunities come through referrals and connections, so be sure to let your network know that you're seeking IT support roles.
Please note that while these platforms often feature IT support jobs, the availability of such positions can vary. Consistently monitoring these platforms and setting up job alerts can help ensure you don't miss out on any opportunities. Support Adventure on the other hand, is always looking for talented IT Support Technicians and Service Coordinators, so head on over to our remote jobs page to see the available positions if you're looking for a job!
Understanding Key Roles in Managed Service Providers (MSP): Service Coordinators and IT Support Technicians
Support Adventure exclusivelly works with staffing Managed Service Providers (MSPs), who offer a broad range of IT services to their clients, including support for Microsoft-based technology and related infrastructure. Two pivotal roles within MSPs are the Service Coordinator (sometimes called a dispatcher) and the IT Support Technician. Both positions play integral parts in ensuring seamless IT operations and top-notch customer service.
Each role requires a unique set of skills and abilities, but they both share the common goal of ensuring that clients receive prompt, professional IT support. As the demand for Microsoft technologies and services continues to grow, so too does the need for skilled Service Coordinators and IT Support Technicians. Whether you're coordinating the helpdesk or providing hands-on technical assistance, these roles offer rewarding opportunities in the thriving field of IT support.
Become a Remote IT Support Technician in an MSP while living in Namibia:
An IT Support Technician provides technical assistance related to computer systems, software, and hardware. They are often the first line of defense when a client experiences technical issues, particularly for businesses reliant on Microsoft technologies and related infrastructure.
Key Responsibilities of a Remote IT Support Technician:
Responding to service requests and resolving them promptly
Installing, configuring, and maintaining Microsoft technologies
Troubleshooting network issues, hardware failures, and software errors
Providing technical support over the phone or via remote access
Training end-users and colleagues on new systems or software applications
Required Skills:
Proficient in Microsoft technologies such as Windows Server, Active Directory, Microsoft 365, and Azure
Understanding of network concepts (TCP/IP, DNS, VPN, DHCP)
Ability to diagnose and resolve technical issues
Excellent communication skills, particularly in explaining technical concepts to non-technical individuals
Patience and excellent customer service skills
How to become a successful Remote IT Technician in Namibia?
Pursuing a career as a remote IT support technician in Namibia can involve a series of steps:
Education and Training: Acquiring a strong foundational knowledge in computer systems, network management, and troubleshooting is essential. Consider obtaining a degree or certificate in computer science or a related field.
Experience: Gain practical experience through internships or entry-level positions. This can help you understand the practical aspects of IT support and provide you with valuable hands-on experience.
Certifications: Certifications like CompTIA A+, Network+, or Cisco Certified Network Associate (CCNA) can enhance your employability. They demonstrate your knowledge and commitment to potential employers.
Job Search: Use job portals to find remote IT support jobs. Support Adventure, for example, offers numerous opportunities in the IT support sector.
Continuous Learning: Stay updated with the latest technologies and trends in the IT industry. This will help you stay competitive and relevant in the job market.
To learn more about the specific requirements for remote IT Technician jobs, check out this article to get more advice on how to get a job in IT support.
Become a Service Coordinator in an MSP while living in Namibia:
A Service Coordinator, sometimes referred to as a dispatcher, is the nexus of communication and coordination within an MSP. This role is central to managing the flow of service requests, ensuring each is addressed in a timely and efficient manner.
Key Responsibilities of a Remote Service Coordinator:
Managing incoming service requests and incidents
Prioritizing and dispatching these requests to the appropriate IT support technicians
Monitoring and tracking the progress of service requests
Communicating effectively with clients about their service requests and their status
Required Skills:
Strong organizational skills
Excellent communication abilities
Ability to prioritize tasks effectively
Proficiency in using service desk systems and other MSP-specific tools
Basic understanding of IT concepts, including Microsoft technologies and infrastructure
How to become a Successful Service Coordinator at an MSP?
Embarking on a career as a Service Coordinator in a Managed Service Provider (MSP) can be an exciting and rewarding journey. Here's a step-by-step guide to set you on the path to success:
Step 1: Understand the Role and Requirements
Before you start your journey, it's crucial to understand the role and responsibilities of a Service Coordinator. This includes managing incoming service requests, prioritizing and dispatching these requests to the appropriate IT support technicians, monitoring the progress of requests, and maintaining effective communication with clients.
Step 2: Gain a Solid Foundation in IT
While a Service Coordinator role is not as technically demanding as an IT Support Technician role, having a solid understanding of IT concepts is beneficial. Familiarize yourself with the basics of Microsoft technologies and related infrastructure. This will help you understand and prioritize the service requests you'll manage.
Step 3: Develop Essential Skills
Key skills for a Service Coordinator include excellent communication abilities, strong organizational skills, and the ability to prioritize tasks effectively. Developing these skills can be done through formal education, online courses, or practical experience in a similar role.
Step 4: Get Familiar with MSP-Specific Tools
Service Coordinators often use service desk systems and other MSP-specific tools to manage and track service requests. Learning how to use these tools effectively can increase your efficiency and productivity in the role.
Step 5: Gain Relevant Experience
Try to gain experience in a role that involves customer service, coordination, or IT. This could be within an IT department, a call center, or any other role that involves managing requests and interacting with customers or clients.
Step 6: Apply for a Service Coordinator Role
Once you've developed the necessary skills and gained some relevant experience, you're ready to apply for a Service Coordinator role. With Support Adventure, you don't need a resume or a cover letter, just fill out the application and you will receive further information in an e-mail. We'll ask you to record a couple of videos of yourself answering role specific questions which we will then share with our clients who're always on the lookout for talented dispatchers and service coordinators.
Step 7: Continuous Learning and Improvement
Even after securing a Service Coordinator role, continuous learning and improvement are key. Stay updated with the latest trends in Microsoft technologies and MSP best practices. Seek feedback and look for ways to improve your performance continually.
Step 8: Network with Industry Professionals
Networking can provide valuable insights, advice, and opportunities for career advancement. Connect with other Service Coordinators, attend industry events, and participate in online forums and discussions.
Step 9: Pursue Career Advancement Opportunities
As you gain experience and develop your skills, opportunities for career advancement may arise. This could involve taking on more responsibilities, moving into a managerial role, or even transitioning into a more technical position if that aligns with your career goals.
To learn more check out our Service Dispatcher Role and Responsibilities: The Complexity of the Job article.
Namibia: An Emerging Hub for IT Support Jobs
In conclusion, Namibia is an emerging hub for remote IT support jobs, offering a unique blend of reliable digital infrastructure, stunning natural landscapes, and a vibrant, international community. Companies like Support Adventure are leading the way in this domain, offering a range of opportunities for IT support technicians and service coordinators alike.
Support Adventure's commitment to remote work allows professionals to be located anywhere – even in the breathtaking landscapes of Namibia – while providing top-notch IT support services to clients worldwide. These positions not only allow you to expand your technical skills but also offer the incredible opportunity to balance work with the exploration of one of Africa's most captivating countries.
To apply for one of our available postions check the remote IT Support jobs page on our website. Our company's commitment to providing remote work opportunities means that no matter where you are in the world, including Namibia, there's a chance for you to be part of our growing team. Embrace the chance to redefine your work-life balance, enjoy the adventure that life in Namibia offers, and expand your career horizons by applying today.