Marketing can be a significant pain point for a lot of MSPs. Some owners believe that marketing your MSP will not produce substantial results. Others consider it too complicated or expensive, but the truth is different.
There are tremendous benefits to investing in marketing, including acquiring new leads, increasing the visibility of your MSP, increasing sales, gaining authority in your field and creating trust with your customers. You can start making life-changing marketing decisions today with the help of valuable resources or by simply hiring a marketing agency to do that for you.
To help you make the right decisions when choosing to hire a marketing agency for your MSP, get familiar with the following key factors:
You must understand the most important elements of marketing for MSPs
Choose between marketing in-house vs. hiring an agency
Differentiate between the types of marketing agencies
Weigh the costs of hiring a marketing agency for your MSP
Understand when it's the right time for an MSP to hire a marketing agency
Once a decision maker gains more substantial marketing knowledge, their MSP can expand sales and increase their authority in the field. And knowing the basics of marketing will help MSPs make the right decision if they hire an agency to work with them. Most importantly, marketing helps MSPs become more aware of their strengths and limitations.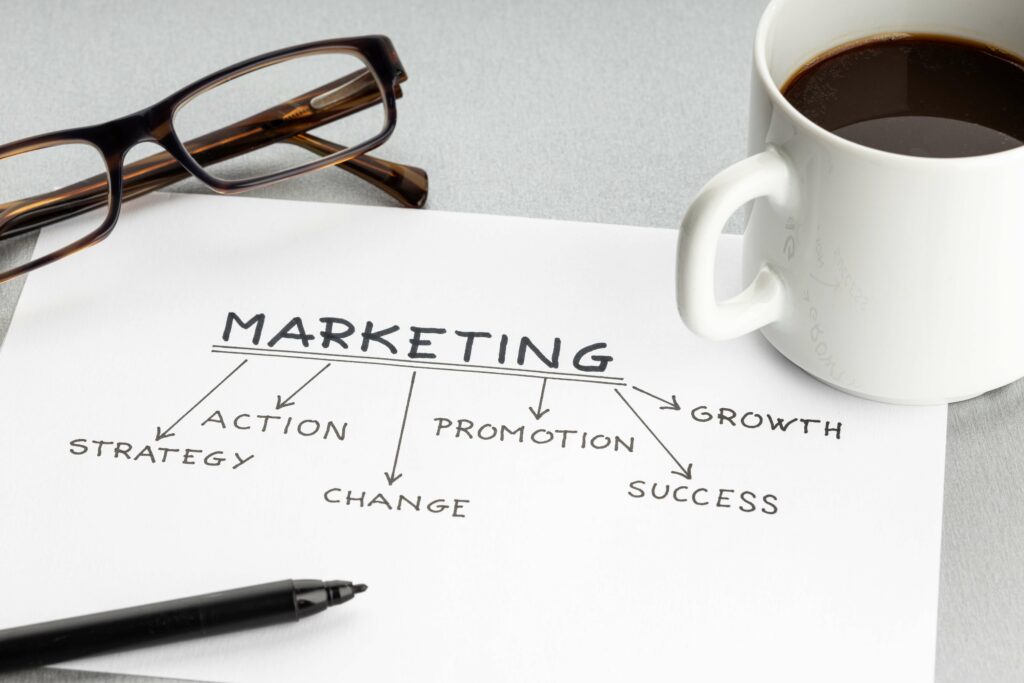 The key elements of marketing for MSPs
Regarding strengths and weaknesses in marketing for MSPs, these can best be understood in terms of how the MSP interacts with their potential clients.
So what are the tactics that work?
Content marketing is the most crucial element of MSP marketing today. If done right, it will do much more than increase visibility – it will also build trust with your customers. Word-of-mouth and Google searches are the two main ways MSPs get new leads. Those channels are interconnected. Thus, you must create a sound knowledge base that provides value to your customers while following the rules of Google search engine optimization (SEO). It is good to have general and niche content (meaning specialized topics, such as medicinal office IT support, security, etc.).
Search engine optimization, often referred to simply by the acronym SEO, is a process of organically increasing the quantity and quality of your website traffic without paying for ads. That means people discover pages or blog posts on your website via a search engine. In this process, it is essential to satisfy the SEO requirements and provide quality content in text and video.
The general rule of thumb is to make your website's homepage very descriptive to keep visitors engaged in a long session as they peruse your site.
However, that content needs to resonate with Google as well. You do this by developing strong keyword ideas for SEO. If you didn't know, a keyword is simply a word or phrase your target customer is typing into the Google search engine. You can find ideal keywords by searching for a word or phrases that are important and relevant to your business and clients. Once you get the results, take stock of what articles and websites appear at the top positions on search results pages.
As you analyze those websites, ask yourself the following of those top results:
How long is the text?
How is it formatted?
What are the headings and subheadings used?
Look at what your competitors are doing and use it as inspiration. However, don't simply copy what they've written. You must add your own mark.
Remember, it will be months before your content is visible, but once it is, it will stay there for a long time. Invest in making the best content that can be found online and it will pay off!
For faster results, SEO should be paired with other strategies, such as paid ads.
Geographically specific ads and content can have even greater value for MSPs. Your MSP can combine text and video content, making sure that your message reaches people in a particular city, state or country.
Online communities – Engaging in online discussions can be helpful for both marketing and market research. If your MSP provides valuable information on a particular topic on online platforms like Reddit or Quora, your reputation and authority on the subject will increase. You can also get insight into your audience's candid and frank opinions on relevant issues.
Don't be afraid to engage in an online conversation or write a direct message to a potential client. But before you do that, always provide value first. Advertising your company right off the bat is counterproductive and can create resistance and pushback.
Paid ads are also highly beneficial when done correctly. For smaller MSPs, they can be less valuable than for the bigger ones. SEM, PPC, banner ads and sponsored social media posts are ways an MSP can engage in paid advertisements.
Marketing analytics for MSPs – Marketing metrics and KPIs have been increasingly difficult to track due to the nature of the digital world. Some metrics that can be relied upon in marketing are feedback from contact forms and phone calls. You can also rely on the "bucket of engagement metrics." These are the basics–the duration of time a user spends on your site, the bounce rate of emails and website page visits per session.
MSP branding – This is often overlooked and underrated. What works today is a people-centric approach. Putting your MSP team in the foreground will contribute to the personality of your MSP, making it stand out from the overly corporate image of your competition. After all, the second most visited page on your website after the home page is the "About" section. So use it to your advantage. What unique selling proposition makes you stand out from other MSPs? Show that to be unique and easily distinguishable so you can leave your mark.
MSP marketing: In-house marketing vs. hiring a marketing agency
Whether you want to hire a marketing agency or handle promoting your business internally, you need someone who understands the MSP and marketing world. The reality is that these types of entities and people are neither easy nor cheap to come by. Both will require time and money.
It is a good practice to stay flexible and try different approaches in marketing. Your strategy doesn't have to be thoroughly thought out from the start. Just be receptive to what resonates with people and do more of that! Expect not to see fruitful results for the first couple of months, or even up to half a year, if you decide to overcome the learning curve and do the marketing yourself.
You can also go with a branding agency or specialist. There is nothing wrong with shopping for your slogan, logo and brand statement, but it can get very pricey. If you are a smaller MSP, that much attention to branding will make a slight difference in marketing. The focus should be on organic content instead, because that is what generates the most leads.
For larger organizations however, it makes more sense to go to a branding shop because it does matter to fully differentiate due to such big competition.
How to choose a marketing agency for managed service providers
How exactly does one go about choosing the right marketing agency that can bring the most results?
There are two types of marketing agencies:
One that offers templated marketing material
One that offers unique, personalized material
Neither is better than the other, however they have unique pros and cons.
With template marketing materials, each MSP would get the same templates for their website content, blog and newsletter. This comes with a lower cost, but the risk you run is that it will be hard to differentiate yourself from other companies. This is true for MSPs in larger municipalities since MSPs are geographically specific. Not only is that confusing for Google, but the client might also find you less credible. It is good value for smaller MSPs as well.
If you want to grow as an MSP and go after larger clients, you will want to work with agencies that create unique content just for you. This is more costly but brings more value.
The biggest tip is to find a marketing agency or company focusing on IT service providers. Take eBridge, a marketing agency we had as a guest on our podcast. Their MSP clients often started working with general marketing agencies, someone they knew locally or through their network. Later, those clients turned to a more specific marketing agency focused on MSPs, as eBridge does. This is because their clients work in a unique market, and what works for B2C companies does not work for MSPs. For example, general marketing agencies focus more on social media, which isn't relevant to MSPs.
It is important to work with agencies that understand the jargon, acronyms, vendors and the unique aspects of managed services. That is more important than the price point.
If you are working with marketing agencies that offer templates, your blog will not have any index tags, negatively affecting SEO performance. You may encounter Google's duplicate content penalties. Templates have a place for smaller MSPs, but if you are growing or intend on growing, you want to be sure that Google is pushing your site to the top of search results.
If you're left wondering if there's any advantage to using templates, there is one. They will have value for the user's experience with a tried and tested template. But it won't strengthen your SEO performance nor separate your brand from the others.
What's a good 360 investment that will cover all the marketing basics for MSPs?
How much can an MSP expect to invest in marketing?
It depends. As eBridge suggests, it can cost around $2500 a month. This will cover an integrated marketing approach where you can hire a writer and a designer.
Regarding lead generation tactics, advertising and Google ads can cost up to $10,000 a month. If you are in a large metro area, ads can eat away at it this sum quickly. Therefore you have to be very selective with Google ads.
If you are using PPC (pay-per-click), expect $15 or $20 per click, if not more.
Now, will this pay off in the long run and generate leads?
If you calculate how many clicks convert to leads, a good result is a 5% conversion rate to get a lead from a click. To elaborate on this math, $25 per click with a 5% conversion rate will come out to $500 per lead cost.
This will be complex math to do for some smaller MSPs, and so it might make more sense for them to target bigger clients, such as an MSP with a team of 10-20 employees.
Lastly, none of this will work if you have no idea what keywords to target so your ads show up for those search results. At the very least, have branded keywords in your ads. The cost will be lower, but the conversion will be impacted, and it prevents competitors from going after your brand keywords.
It also makes sense to go after long-tail keywords, which are longer phrases or questions your target customer is searching for. If you are more focused on your specific offering (e.g. dentists or your metro region), that will bring the cost down and make the math more tenable.
If you are advertising on Google, keep in mind that it requires regular management of the ads, which can be challenging in this industry. There will be a cost of having someone manage the ads, plus the cost of the ads themselves.
Where to start for marketing and staffing for your MSP?
Finding and working with experts in any field can be challenging. Since the MSP industry has unique challenges, it is good to work with a company that is familiar with them.
What to look for in an agency?
A good system with a firm structure
Established success in its field
A rapport that is reliable and results-oriented
Compatibility between the culture of your MSP and their ethos
That they are people-oriented
For more insight into marketing to your ideal MSP client, check out eBridge, as well as our podcast episode with them. They have been in the game for an impressive 30 years, and they are experts in the field of marketing for MSPs.
And for finding rockstar remote techs for your help desk, we at Support Adventure offer premium remote staffing for MSPs. We pride ourselves on reducing helpdesk chaos and strengthening productivity in MSP organizations in the US, Canada, Great Britain, Australia and New Zealand.
Visit our MSP services page to further explore what we do and how we can help your MSP improve and grow.