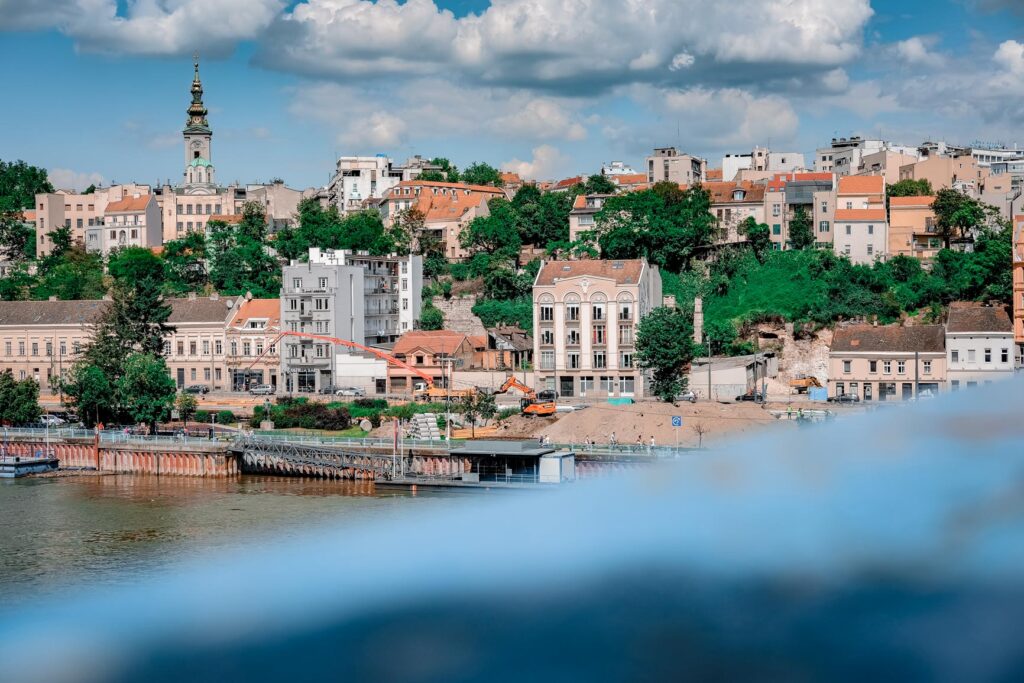 Are you an expat or remote worker searching for an apartment in Belgrade, but you're struggling due to the language barrier, or being out of the loop on how to find accommodations? Well, we're here to help you. This guide will detail everything you need to know about apartment hunting in Belgrade. We'll explain what to expect for rent prices, what to know about contracts, residency and more. Here's a gist of how landing an accommodation goes:
The best way to find an apartment to rent in Belgrade is to decide what kind of apartment you want first. Next, conduct your search on classifieds websites or Facebook groups. You can also rely on word-of-mouth. When you find a place, negotiate the price and sign a contract with the apartment owner, or the real estate agency listing the apartment on the owner's behalf. And don't forget about registering for proof of residency if you want to obtain a temporary residence visa.
How to find an apartment in Belgrade?
There are several ways to find an apartment in Belgrade. From searching on classifieds websites, to more creative approaches like apartment swaps, it is helpful to learn the ropes before starting your search. And one more thing to remember: you gotta be quick! Available accommodations come in very high demand, thus they get rented out within hours of an ad being posted.
Here are some of the best websites, Facebook groups and alternative methods for renting an apartment in Belgrade.
Websites:
When going through these websites, you will see ads posted by the owner or an agency.
When it is the owner, or "vlasnik" in Serbian, there will be no commission fee that you have to pay on top of paying for the first month's rent.
If it's an agency, or "agencija" in Serbian, then you can expect to pay the agency's commission fee. In most cases, the fee is the price of one month's rent. Cityexpert.com is the only website that covers the agency fee so that you don't have to pay it yourself!
You'll also often have to pay a deposit, regardless of whether the ad is posted by an owner or an agency. Deposits are typically the price of one month's rent as well.
A benefit of the classifieds websites is that you can sign up to receive email reminders with new offers that could be of interest to you. You can also post your own 'seeking apartment' ad, which might be successful. But since demand for apartments is very high, you will have more success by simply searching.
Facebook groups are another option, but it works differently. On a Facebook group, you can find more success posting an ad than you would on a classifieds website.
Facebook groups we recommend for renting an apartment in Belgrade are:
Alternative methods
Word of mouth
Airbnb (great for short-term rentals for digital nomads)
Booking.com (also great for short-term rentals for digital nomads)
Volunteering
Apartment swaps
How much does monthly rent in Belgrade cost?
Consumer prices in Belgrade have gone up over the past year. This is due to numerous factors, one of which being many foreigners relocating to Serbia.
Compared to the end of 2021, rent prices have increased by $150 in most areas of Belgrade, and by $100 in other cities in Serbia.
When budgeting for rent, consider these four factors:
Type of heating system
Location
Size
Whether an apartment is furnished or not
The type of heating affects your monthly accommodation budget the most. It does not factor into the cost of rent, but it affects your finances for recurring utility costs. If the apartment you want to rent uses electrical heating (referred to as elektricno grejanje, or EG), the monthly electricity bill will be higher than central heating. EG tends to start at around $100 a month for a one-bedroom apartment during the winter, depending on the amount of usage of course.

Heating via a public central heating system (referred to as centralno grejanje, or CG) is paid through what is called an "infostan" utility bill. This is somewhat less expensive than using electrical heating. On the other hand, CG is paid for on a monthly basis throughout the whole year, even during the warm summer months.
Another thing to keep in mind is how location affects the price. Apartments in Belgrade follow a universal rule in this regard–the closer to the core of the city, the higher the rent is. The difference in renting a unit in the city center, versus one outside of the center, is around $150-$250 for the same size unit.
But this increase in city center housing is worth it for many as Belgrade is a very walkable city–at least the wider center is. Public transport is affordable, although sometimes unreliable. Biking or using an electric scooter are other transportation alternatives. When it all adds up, the monthly transportation expenses can equal the price difference between a flat in the city center versus a flat on the outskirts.
An apartment's size and number of rooms affect the price of rent as well. One-bedroom apartments and studios are the easiest to find. However, if you plan on splitting the rent with a roommate, then more rooms become more affordable!
The price of rent in Belgrade in 2023
Prices have gone up significantly over the year. However, some landlords are using this to exploit future tenants. To avoid overpaying, it is good to know the current approximate rent prices in Belgrade.
One can expect to pay around $300 for a studio apartment, and around $400 for a one-bedroom close to the city center. The prices go up from there for a three-bedroom apartment, ranging from $600 to even double that.
The best areas to rent an apartment in Belgrade
Belgrade is one of the most beloved cities in Europe. One of the reasons for that is how walkable and well-connected it is. With a population of around 1.4 million people, Belgrade offers an urban atmosphere with a variety of neighborhoods.
Some of the best areas for renting an apartment in Belgrade are:
Savski Venac
Cukarica
Stari Grad
Vracar
Vozdovac
Novi Beograd
Zemun
Of course, there are many more neighborhoods in Belgrade that are great to live in. But for now, the ones we've just listed will be described further.
Where to rent an apartment in Belgrade?
Let's take a closer look at these neighborhoods to help you figure out which could be the best for you.
Savski Venac – This is a borough located on the right bank of the Sava river. Beautiful neighborhoods like Dedinje, Senjak and Zeleni Venac are part of the Savski Venac municipality. Dedinje and Senjak are upscale, while Zeleni Venac is the complete opposite. The first two are freshly clean and surrounded by parks, so they feel more peaceful. They are perfect for families with small children.
Zeleni Venac is a more buzzing area in the city center. It is home to some of Belgrade's busiest streets and the main bus station. It can be noisy, but it is loads of fun as it is close to all the best night clubs and cafes.
Cukarica – This is a municipality located southwest of Belgrade's downtown. It's far away from the center, making it perfect for peace-seeking nature lovers. Rent prices can be more affordable here.
Stari Grad (Old Town) – Occupying the very core of the city, Stari Grad is one of the oldest municipalities in Belgrade. Despite its age, it is the most urban area of the city and rent is the highest here.
Vracar – An affluent neighborhood where many embassies and museums are located, Vracar is great for being in the center of the action. Some parts of Vracar offer more modest rent prices, while other parts are a bit pricey.
Vozdovac – This is an area with tall residential buildings located in the central section of the wider Belgrade city area. Bordering Vracar to the north, and Sopot to the south, Vozdovac is affordable and urban.
Novi Beograd (New Belgrade) – Located on the north side of the Sava river, opposite of the old town, the Novi Beograd municipality is one of the youngest parts of Belgrade. Many businesses have, and are continuing, to move to this area for its large, wide spaces and modern infrastructure. It's a great choice for both singles and families.
Zemun – Once an independent city, Zemun merged with Belgrade in 1934. But it still has an isolated feel to it with Austro-Hungarian architecture and wide colorful streets that distinguishes it from the rest of Belgrade.
The cost of living in Belgrade
For a single person's cost of living in Belgrade, monthly expenses reach up to $550 on average when excluding rent. Rent in Belgrade can cost a single person $250 to $2000, depending on what type of apartment you choose and where. For example, the quasi-fancy Belgrade Waterfront area is where you can find more expensive and luxurious one or two-bedroom apartments in modern buildings.
Public transportation is around $30 a month.
To help you know where your money is going, and how to plan your budget in 2023, click here!
The best and worst times to rent an apartment in Belgrade
Timing is everything! If you are looking to rent an apartment in Belgrade, it is crucial to know which months are the best and worst for apartment hunting.
The best months to rent in Belgrade are June, July and August. The worst time is from September to November. To rent an apartment, be ready to pay around $500 for a single bedroom apartment downtown, and $100-$150 outside of the city center. Monthly utilities are around $150 for a one-bedroom apartment.
The summer months of June, July and August are the best for apartment hunting in Belgrade. That's because students who attend university in Belgrade go back to their hometowns and cancel their accommodations. Working adults also relocate to the seaside for summer jobs and leave their homes. That is why the summertime presents a great opportunity to start your search if you want to do so stress-free!
September, October and November are the worst months for looking for an apartment in Belgrade. This is the time when students are either returning to university or starting their first year at one of Belgrade's many schools. Seasonal workers are also returning from their work as well, making it harder to find unoccupied apartments that are up for rent.
How Belgrade rental contracts work
Renting contracts exist to protect the renter and the owner of the apartment, as well as set the rules and duration of a rental agreement.
There are usually two types of contracts:
Notarized (a court-validated contract between a landlord and their renting party)
Unnotarized (a contract between a landlord and their renting party that isn't validated through the court)
If you don't notarize a contract in court, it does not hold legal validity and serves mostly as an agreement between the two parties. However, when the contract is notarized, the price of the rent might go up because the owner pays a percentage to the state. It is rare, and even unusual, to have a notarized contract in Belgrade, however it is good practice.
Mandatory registration for foreigners and applying for residency to live in Serbia
According to Serbian officials, all foreigners are required to register at a nearby police station within 24 hours of entering the country. This registration document is known as the white card, or 'beli karton' in Serbian. However, visitors who spend their first night at a hotel, hostel or Airbnb don't need to register because the facility should do that for them via an online e-portal that they have access to.
If you are renting an apartment, you need to make the landlord aware beforehand that you need the white card. To obtain it, you need to fill out the residence application form and submit it at one of the police stations below:
Beograd 011/ 2798 101 Bulevar Despota Stefana 107
PS Barajevo 011/ 2816 008 Miodraga Vukovića 114
PS Voždovac 011/ 2453 565 Stevana Prvovenčanog 1
PS Vračar 011/ 3440 643 Radoslava Grujića 14
PS Grocka 011/ 8501 401 Hajduk Veljkova 22
PS Zvezdara 011/ 2413 822 Milana Rakića 50a
PS Zemun 011/ 3160 564 Veliki trg 2
PS Lazarevac 011/ 8123 458 Branka Radičevića 3
PS Mladenovac 011/ 8233 925 Vojvode Putnika 2
PS Novi Beograd 011/ 2138 160 Bul. Mihajla Pupina 165
PS Obrenovac 011/ 8723 948 Karađorđeva 5
PS Palilula 011/ 2750 155 Mije Kovačevića 15
PS Rakovica 011/ 2798 101 Patrijarha Joanikija 30
PS Savski Venac 011/ 3618 744 Savska 35
PS Sopot 011/ 2820 003 Rada Jovanovića 2
PS Stari Grad 011/ 3239 731 Majke Jevrosime 33
PS Čukarica 011/ 2798 101 Lješka 17
Once you've obtained your white card, you should ideally carry it on your person at all times. However many people don't and rarely need to show it. But hey, you never know. You might also have to provide it for customs at border crossings. But it is rare that a customs agent at the border will ask for it unless you are of a nationality that is subject to more strict border checks.
How to find a long-term apartment in Belgrade?
This is for individuals who plan on renting an apartment for a minimum of 12 months. You need to consider what you need or want to have in your long-term home.
Before searching, it helps to determine how many bedrooms you need, your ideal location, whether or not it needs to be furnished and how much you can afford to budget for heating. Since you will be spending a long time there, consider what and what not you are willing to compromise on. When you've created an image of your desired apartment, then you should start your search.
How to find medium-term apartments to rent in Belgrade?
If you want to find a place to rent for at least one to six months in Belgrade, check out the Facebook group Medium-Term Rentals Belgrade.
How to find short-term apartments to rent in Belgrade?
If you're looking for accommodations that you can pay for on a weekly or monthly basis, try Airbnb, Booking.com, hostels or hotels. On Airbnb and Booking.com, you can negotiate a weekly or monthly discount with the owners of apartments listed there.
Is sharing apartments common in Belgrade?
Very much so! Having a roommate not only helps to fight loneliness, but also the high prices of rent. As we suggested above, Cimeri Beograd is a great Facebook group if you choose to go the roommate route.
Want to relocate to Belgrade?
Working a location-independent job is a dream come true for most people! We here at Support Adventure make that dream a reality, particularly for those in the IT sphere, which we provide jobs for.
We also often have positions available for service dispatchers, which doesn't require IT experience, and occasionally admin assistance.
Apply here if you are interested.