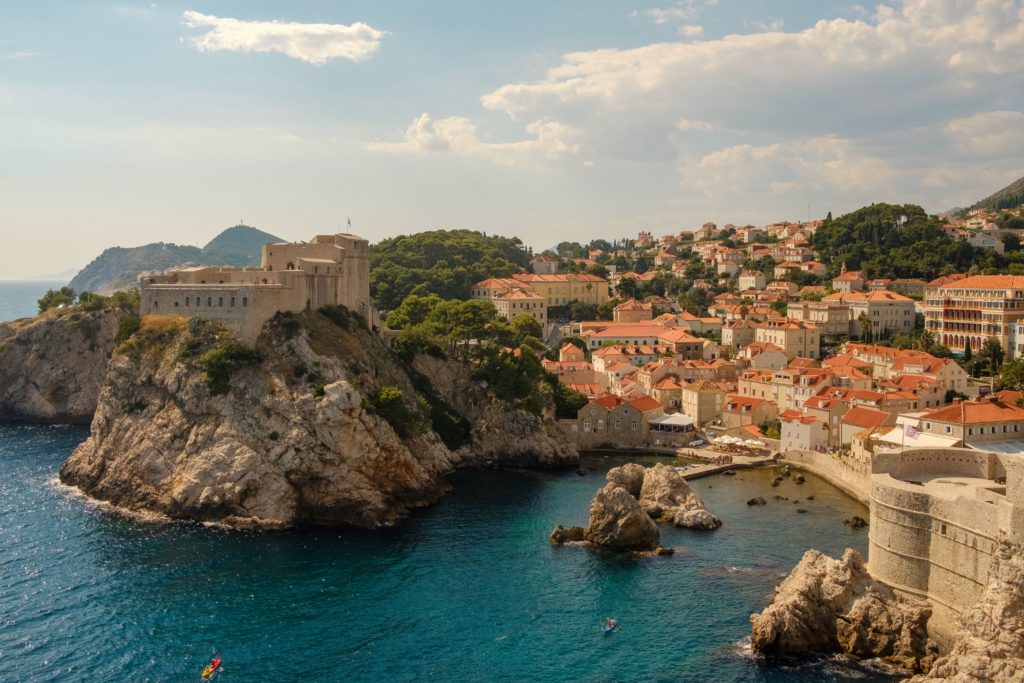 Croatia is a popular destination for tourists from all over the world and has many cheap places to live, despite its ever-increasing tourism. Additionally, the new digital nomad visa, implemented in January 2021, has attracted many expats and remote workers to this Adriatic country. With increasing demand to travel here each year, prices have been rising too, making some Croatian cities particularly expensive to live in.
But if you're only looking for the best affordable locations in Croatia, we have collected them all in this article.
The Cheapest Cities in Croatia are (monthly cost):
Slavonski Brod: $669
Osijek: $736
Karlovac: $819
Sibenik: $850
Velika Gorica: $855
Kastela: $856
Rijeka: $945
Pula: $923
Zadar: $1,055
Split: $1,085
Zagreb: $1,085
Hvar: $1,117
While the average salary in Croatia ranges from $700- $1,000, expats and digital nomads on foreign income will have a really good standard of living. Furthermore, as the country of 1,100 islands, you'll have a wide range of places to choose from when moving to Croatia. To make your life easier, we have summarized the top cheapest cities for relocation.
Read more about the Croatian digital nomad visa.
The cost of living in Croatia
The increase in the number of tourists and expats has influenced the cost of living in Croatia in a negative way. Things cost more nowadays than they did a decade ago. In fact, Croatia has become one of the most expensive countries for living in Eastern Europe. Nevertheless, living costs in Croatia are still lower than in Western Europe and the US.
The general cost of living in Croatia is as following:
Family of four estimated monthly costs are $2,847
A single person's estimated monthly costs are $1,275
The cost of living in Croatia is on average 24,04% lower than in the U.S.
Consumer prices are 24,07% lower than in the U.S.
Rent prices are 181,49% lower than in the U.S.
Restaurant prices are 42,83% lower than in the U.S.
Groceries are 36,31% lower than in the U.S.
Croatia is the 4th most expensive country to live in Eastern Europe. However, it's cheaper than 51% of the countries in the world when it comes to its cost of living.
Nevertheless, Croatia remains a cheap country to live in, especially if you compare it with others in Western Europe, U.S., Canada and Australia. Overall, $1,400 will get you a comfortable standard of living in Croatia. Local salaries are around $1,000, so you will be way above the average.
Another perk of living in Croatia is that the quality of life in Croatia is high. Many activities are free, including swimming in the sea, wandering in Venetian old towns or hiking in the mountains.
Croatia's cost of living varies significantly depending on location. You can expect higher monthly expenses in the touristy cities, especially during the high season. In some cities, expats can live at an affordable price throughout the year.
Your monthly budget will be higher in uber touristy towns like Split and Dubrovnik–the top summer vacation spots. Even in a big city, a monthly budget of $1,400 includes a middle-class lifestyle that can afford eating out four times a week, going to events and maintaining a gym membership.
From the experience of expats, they will spend on average $47 a day, and the monthly breakdown looks like this:
Rent and utilities: $540
Health insurance: $65
Food (groceries, eating out and drinks): $608
Subscriptions: $14
Phone: $12
Travel: $185
Total: $1,424
Housing
Housing can be difficult to find in the peak season, but outside of Split and Dubrovnik, you can still find a nice two-bedroom apartment at $530 per month. Keep in mind though that prices vary drastically between long-term vs. short-term.
Long-term rentals are significantly cheaper, especially in beach towns. If you try to rent month-to-month during the summer, you can expect housing to triple in price.
Overall, the monthly rent is around $450 – $600 for a city-center apartment that is walking distance to everything you need, including the beach. Wi-Fi and all utilities, with the exception of electricity, are often included in the price.
A furnished studio apartment or a small one bedroom in the city center can cost around $400 (WiFi and utilities included). Just beware of centrally-located rentals for under $400. They might have some issues if they are below the market price.
Food
Food at supermarkets, discount stores and green markets is particularly affordable in Croatia compared to restaurant prices. There you might pay the same amount as in central or western Europe.
Budget restaurants have prices between $5-$10 for meals like pizza or cevapi (sausages). Mid-range restaurants are priced at $12 – $20 per meal on average. Meals like shrimp risotto, ricotta-stuffed calamari and fried sardines will fall under this range.
A budget of $300-$500 for groceries and eating out should be sufficient for one person.
Transportation
Many Croatian cities have a well-developed public transportation system, particularly Zagreb. Transportation can also be reasonably cheap. The bus is by far the most inexpensive way of traveling, and you can benefit from monthly tickets in the city.
A regular ticket costs around $2. A monthly pass for unlimited rides is less than $60. Uber is also affordable, with $4-$5 for city center rides. If you need to travel further, the train and bus are also inexpensive. The six hour train from Split to Zagreb costs $17, and the bus will cost a little more.
There's also the option of plane travel. Zagreb, Dubrovnik, Zadar, Split and Pula all have airports with budget airlines operating out of them.
Health insurance
Expats also need to consider health care and insurance expenses when moving to Croatia. As a foreigner, you won't have access to free public healthcare. Health insurance for foreigners can cost up to $75 per month.
You also need it to apply for a digital nomad visa in Croatia. Without insurance, a visit to a private doctor costs around $25-$35. Antibiotics at the pharmacy should be between $5-$10.
Some other expenses are:
Haircut: $10
Phone plan: $8 for monthly data of 4 GB
Clothing: $100
Entertainment: $100
Gym: $35
The Cheapest Places to Live in Croatia
Now that you have a general sense of pricing and expenses, let's take a closer look at the most affordable cities and towns.
Slavonski Brod
Population: 60,000
Cost of living: $669 per month
Slavonski Brod is one of the cheapest cities to live in in Croatia. In fact, it is the cheapest one. Slavonski Brod is the second-largest city in Slavonia and is situated in the eastern part of the country near the Bosnia and Herzegovina border.
Unfortunately, the location might be the reason for such low living expenses. You will be 197 km away from Zagreb next to the river Sava.
Consequently, despite the low cost of living, you might not want to live in a place like Slanovski Brod. The city has almost no tourist attractions and is located quite far from the coast and the capital.
Osijek
Population: 108,000
Cost of living: $736
The second most affordable city to live in Croatia is the quaint and colorful Osijek. It is the largest in Slavonia and the economic and cultural center of this eastern region. It's a beautiful old city that was influenced by the Austro-Hungarian empire.
While the southern Dalmatian region was historically ruled by Italy, Osijek and its neighbors were part of the Hungarian division of the Austro-Hungarian empire. For that reason, Osijek might feel like a totally different country.
Nonetheless, it is a good choice for everyone who appreciates history and doesn't prioritize living by the sea. Another plus of Osijek is that it also has its own airport.
Karlovac
Population: 55,000
Cost of living: $819
The third cheapest city in Croatia is Karlovac in the very center of the country. Located 56 km from Zagreb, four rivers flow through the city! Karlovac also has a lengthy historical background and was built by Austrians.
Karlovac is a very green city with an abundance of nature in its surroundings, which is especially suitable for anyone who is into hiking. Yet, life in a small Croatian town in the middle of the country might not be that exciting as there isn't much to do and to see. If you want a quiet life with occasional weekend trips to the capital, Karlovac will be a good match.
Furthermore, Karlovac has a major transit bus station between Zagreb, the coast and Plitvice Lakes, thus reaching Karlovac isn't all that hard to do.
Šibenik
Population: 34,000
Cost of living: $850
Šibenik is a stunning historical Croatian town located in the Dalmatia region, and one of the most affordable coastal hotspots. Scenes from Game of Thrones being shot in this town definitely increased its tourism appeal!
Sibenik consists of stone buildings, stone stairways, rock cliffs, cobbled streets and stone arches. It is built on rocks and constructed with stones.
Sibenik is a unique city unlike any other in Croatia. It was founded by Croats, as opposed to other cities along the Adriatic coast that were established by Greeks, Illyrians and Romans. Moreover, the city's architecture is very well preserved.
It's medieval heart is completely car-free, allowing you to explore and wander at your leisure. For nature lovers, the amazing Krka National Park lies merely a few kilometers to the city's northeast, about 15 minutes by car.
Location-wise, Sibenik is about 88 km away from Split, which is the second largest city in the country. Split's airport is 56 km away.
Velika Gorica
Population: 32,000
Cost of living: $855
Velika Gorica is a modern Croatian city located on the banks of the Sava river and it's a municipality of Zagreb. At just 16 km from the capital, Velika Gorica has a significantly lower cost of living compared to Zagreb. You can cut your living expenses by moving here and commuting to Zagreb as needed.
If you don't necessarily need to be located in the capital, but travel there occasionally, Velika Gorica is an excellent choice for the budget.
Kastela
Population: 38,000
Cost of living: $856
Kastela is a small coastal town located near Split. It is conveniently on the way to the Split airport. Kastela has remarkable architecture, a Mediterranean atmosphere and a picturesque landscape.
It is also known amongst tourists in the area, so there are good chances of finding a home in Kastela. The city stretches 17 km along the coast, with a population of around 40,000.
Rijeka
Population: 130,000
Cost of living: $945
Rijeka is the third-largest city in Croatia. It also has one of the most crucial ports in Europe as it's the largest in Croatia. In 2020, the town was named a cultural capital of Europe over its neighboring Croatian candidates like Dubrovnik and Split.
Located in the west, it's only a few hours drive from Milan, Vienna, and Venice. It has outstanding architecture and history behind it as well. It started as an Austro-Hungarian city. From the 16th century on, it was rebuilt in Renaissance style. Many of today's buildings date from that time, giving Rijeka its Baroque character.
Moreover, the city combines Roman legacy, Italian influence, Austro-Hungarian architecture and fading Yugoslav industry.
In Rijeka, you can also enjoy the clean seawater and lovely beaches. It's also a happening nightlife spot due to it being a college town with four universities.
Because it used to be a strong industrial center, the city is rich with industrial heritage. Finally, the Bay of Rijeka is deep enough to accept the biggest ships, which is why it is the biggest Croatian port.
Pula
Population: 56,000
Cost of living: $923
Pula is one of Croatia's most charming and stunning cities. It's the largest city in the Istria region and located in a beautiful peninsula bay. Pula is best known for fishing, shipbuilding and it's famous Roman colosseum that looks similar to the one in Rome.
Many other Roman sites throughout the city are also well-preserved. A day trip to Pula is all you need to uncover this side of Croatia's past.
It also has a charming old town, yummy restaurants, vibrant nightlife, long shopping streets and beautiful beaches.
It's beaches are unspoiled by crowds, unlike the busier southern towns in the Dalmatia region.
Zadar
Population: 70,000
Cost of living: $1,055
The coastal city of Zadar is at the top of the Dalmatia region, making it a great central point between Zagreb in the north and Dubrovnik in the south. While it is the start of the more expensive Dalmatian cities, this second second largest town in the region is much cheaper than Dubrovnik and Split. This is especially true in the fall and winter.
Zadar has a long history and is the oldest city in Croatia. It's open air Roman archeological sites and columns make it rich in tourist attractions. Despite that, it sees much fewer tourists than Split and Dubrovnik.
In Zadar, you can wander the quiet streets of marble and sail to some beaches on remote nearby islands. Even in peak season, the ancient city of Zadar isn't as crowded as some of the other Dalmatian coastal towns, hence the cost of living is also lower.
Zadar is an easily reached destination by land, sea, and air. It has a good infrastructure and is directly connected to many other cities in Croatia and Europe.
Split
Population: 240,000
Cost of living: $1,085
Located in the region of Dalmatia, Split is the second-largest city in the country after Zagreb, and the largest coastal city. Split is the right choice if you want to have more of the city feel, but still be close to the sea.
Split is home to one of the most important and busiest ports in the Mediterranean. Living in the capital of the Dalmatia region means you'll also have the best of local cuisine and culture. You will also have all the benefits of an intimate mid-sized city.
Moreover, Split has it all–an epic Roman palace and accompanying ruins in the center of its old town, museums alongside fashionable cafes, trendy shops and nightclubs.
According to the experiences of expats, the average cost of living in Split is $1,241.
Zagreb
Population: 800,000
Cost of living: $1,085
Zagreb is the Croatian capital and the largest city in the country, with a population of around 800,000 people. This place blends the traditional Croatian city, Eastern European culture, and classic Central European capital.
Zagreb is a very pleasant city to live in. Despite the larger population, it's not crowded, and it's a relatively quiet city. Hence, Zagreb is great for family-oriented expats. There, your kids will have the best access to education and healthcare.
Zagreb is still popular among tourists but much less than well-known Croatian resorts. Hence, prices are quite affordable despite the size of the city. Zagreb has a lot to offer, including gastronomic and cultural activities. You will also find the best infrastructure in the country and the largest airport.
Zagreb is also a safe city, offering plenty of entertainment for the average, history/culture-oriented tourists and citizens. You can enjoy a selection of museums, galleries, theaters, coffee shops, bars, restaurants, concert halls, beautiful parks, and a few clubs. There is everything you need, aside from the beach. However, a couple of hours of drive or short flight will bring you to the Croatian coast.
Moreover, in recent years the government city of Zagreb has implemented hundreds of measures in all areas, from education, culture, and sports to demographic policy, with a goal to improve the lives of locals.
There are many recreational and sports facilities, sports fields, playgrounds, swimming pools available. In Zagreb, expats can benefit from high quality of life and a low cost of living at the same time.
Hvar
Population: 11,000
Cost of living: $1,117
Hvar is a city, port and an island all at the same time. It's one of the largest islands in the country. The island's entire population is about 11,000, while the city has only 4,000 inhabitants. Hvar lies in the most beautiful part of Croatia, as a neighbor to the Dalmatian coastline.
Hvar, together with Dubrovnik, is one of the oldest cities in Europe. In the past, the town of Hvar was known as a center for trade and culture in the Adriatic. We included Hvar on our list because it's one of the most remarkable cities in Croatia and Europe, yet it has some of the highest living costs in the country (3 out of 15).
Hvar has some of the highest prices on leisure, such as eating or drinking out. It's also known as a luxury getaway. However, you can still find some affordable prices when putting time and energy into the research. Having some local connections for cheaper rentals surely will help.
Lastly, world-famous Dubrovnik is the most expensive city in Croatia, with an average cost of living of $1,236.
Lesser known inexpensive cities in Croatia
The cities below are relatively small with fewer tourists. Their beaches are not crowded and they offer a great quality of life with a lower cost of living. Most of them are located on the Adriatic coast, and some near the Italian border. If you are looking for something very peaceful and quiet, pick one of them.
Koprivnica
Samobor
Varaždin
Labin
Opatija
Poreč
Rovinj
Umag
Cres
Krk
Novalja
Novigrad
Want to become a digital nomad and move to Croatia?
If you want to become a digital nomad and work remotely from Croatia but don't have a suitable job, apply for one with us! Here at Support Adventure, we hire talented people from around the world to allow them to work from anywhere. We have open positions for help desk IT support and occasionally admin assistance. So if you have experience or even interest in IT,  don't wait! Apply for a remote job with us on our IT jobs page! 
​​